Context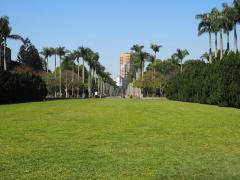 Many metabolic diseases such as obesity, cardio vascular disease, diabetes, cancers are the greatest public health challenges of the 21
st
century. Their prevalence has increased dramatically in many countries in Europe as well as in Asia, since the 1980s and the number of them continue to rise at an anomaly rate.
Food & health are two issues central to human existence and they are inseparable in their relationship meaning « food is medicine » and hold the key to realising a « society in much illness is prevented before it occurs.
Food-related health problems and lifestyle-related diseases, threats to food security (food availability at world level), and the increasing cost of medical care are just some of the many challenges society now faces. To face these myriad problems, there is a need for a fusion of agriculture and medical science in order to find solutions for a better society.
Aims of the pathway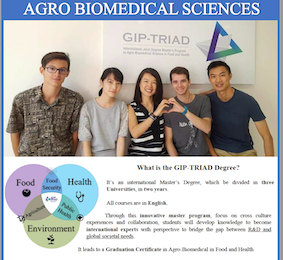 The
Agro BioMedical Science International Master
will provide a unique opportunity to learn in English and follow courses in three outstanding universities:
The common name of the International Joint Degree Master's Programm in Agro-Biomedical Science is GIP-TRIAD. THe stduents can access the offcial GIP-TRIAD web site
here
.
The Agro BioMedical Science International Master goal is to provide a unique opportunity to cultivate advanced professionals that can bridge R&D with societal needs to overcome global challenges in food and health in an international context.
To achieve this goal, our program allows students to learn not simply by attending lectures but also by taking practical coursework in each country.
The Agro BioMedical Science International Master will provide students with cutting edge research-based training in Plant Science, Biotechnology, Health, Nutrition, Food Production.
The teaching includes the most update advances in Toxicology, Cancer, Drug discovery, Global Health, Applied translational Microbiology, Global Food Security, Animal based Food Stuff, Nutrition, Agriculture, Crop Production, Green Biotechnology, Omics and Bioinformatics Tools.
The Agro BioMedical Science International Master will give the opportunity to follow some important biological question from the field to the laboratory, to work in group interacting with each other in day-to-day activities at the shared university facilities and taking a large varieties of course will help the students to understand the fundamental behind the reality of the working world.